1 SET OF PRODUCTS INCLUDED: PURE COPPER BATTERY CONNECTION CLIP
+ 1 Pair Battery connection clip
=> Pure copper, solidity, durable, sure
+ 1 Pair Screw
=> Tighten the wire to make the connection more secure
4 REASONS TO USE Pure copper battery connection clip:
Great features: Pure copper material for maximum power transmission efficiency, solidity, and durability.
Powerful function: The advanced battery clip can effectively protect the battery from rust and prolong its life.
Easy to install: Flexible to tighten without loosening the bolt.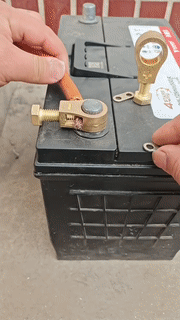 Widely used: Suitable for all kinds of batteries on motorcycles, cars, ships, boats...